---
Salt Lake City & the Wasatch Front Visitor's Map:
detail from map border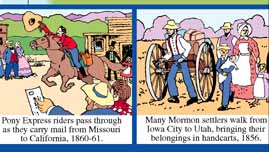 The border of the main map illustrates 28 events in the history of the Salt Lake City area. This detail from the map border shows two of them: the Pony Express passed through here in 1860-61, and in the late 1850's many Mormon settlers arrived here by walking across the plains from Iowa City.
Click to see other pictures of the map: Click to go to the basic page describing the Salt Lake City Visitor's Map.

Click to go to the home page, which shows all maps in this series.
---
Copyright © by Carol Mendel