Carol Mendel's
Washington DC Map
---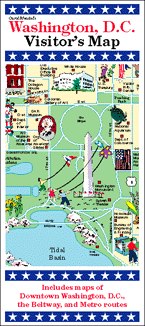 Washington DC map featuring full-color pictorial illustrations
This is a map of our nation's capital. One side of the map features the area around the Mall, and is surrounded by a border illustrating U.S. history. Each historical event featured in the border is linked with a visitor attraction in the D.C. area.

The other side of the map includes indexes, information about major attractions, and separate maps of METRO routes and the Beltway.
Opened size: 24" x 18"
Folded size: 4" x 9"
ISBN 0-935179-26-7
Most recent update: 2012
A single copy of this map costs $5 (if mailed to an address in the USA). This includes shipping, handling, and any sales taxes. International mailing is slightly more. The Order Form explains how to order either by mail or by credit card using PayPal. Discounts are available on orders of 3 or more maps.
At the bottom of this page you will find links to pictures showing various parts of this map.

The profiles of major visitor attractions include name, address, telephone number, and a short description. The featured attractions are:
the museums that make up the Smithonian Institution, including

National Air & Space Museum
National Postal Museum
Sackler Gallery
National Museum of African Art
National Museum of American History
Freer Gallery
Anacostia Museum
Hirshhorn Museum and Sculpture Garden
National Museum of National History
National Museum of American Art
National Portrait Gallery
Renwick Gallery
National Zoological Park

National Gallery of Art
White House
Jefferson Memorial
Library of Congress
Bureau of Engraving and Printing
U. S. Capitol
Washington Monument
Lincoln Memorial
Click to see pictures from the main side of the Washington DC map:
---
The maps in this series:
California | Las Vegas | Los Angeles & Orange County | Oregon | Palm Springs & Desert Resorts
Salt Lake City & the Wasatch Front | San Diego* | San Francisco Bay Area* | Santa Barbara | Washington DC
(* = internet version is a clickable map)
---
home | order form | contact us | about us | privacy policy | sitemap

Copyright © by Carol Mendel