Clickable internet version
Use this key map to click on the area where you want to begin exploring the pictorial map.
When you go to the pictorial map, you will find that most of the names and illustrations are linked to relevant websites. Typically, but not always, the links are to the official website of an attraction or the official website of a city.
Before you begin, you might like to take a look at the map's legend.
---
Printed paper version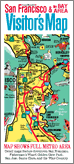 The printed version of this map is known as the San Francisco Bay Area Visitor's Map. On one side of the map is printed the pictorial map you will find when you explore the clickable map. The map is surrounded by a border illustrating the history of the Bay Area. On the other side are five additional pictorial maps and an index.

Opened size: 24" x 18"
Folded size: 4" x 9"
ISBN: 0-935179-29-1
Most recent update: 2000

Advantages of the paper version:

Obviously the paper version of the map is not clickable. But it does have important advantages not available in the internet version:

The illustrations show up a lot better than they do on a computer screen.
You can see the entire map at once, including its colorful A Short Illustrated History of the Bay Area border.
You get an index.
You get five additional pictorial maps: Downtown San Francisco, Fisherman's Wharf, Golden Gate Park,San Jose & Santa Clara, and The Wine Country.
You can carry it around with you.
How to order the paper version
of the San Francisco Bay Area map:
A single map sent to a U.S. address costs only $5, including everything--shipping, handling, and (where applicable) sales taxes.

To order a single copy of this map sent to a U.S. address, and pay with a credit card or PayPal, click here.

For all other orders, click here. This includes orders involving more than 1 map, laminated maps, international shipping, or payments by check or money order. Orders for 3 or more maps qualify for discounts.
---