Carol Mendel's
Golden Gate Park map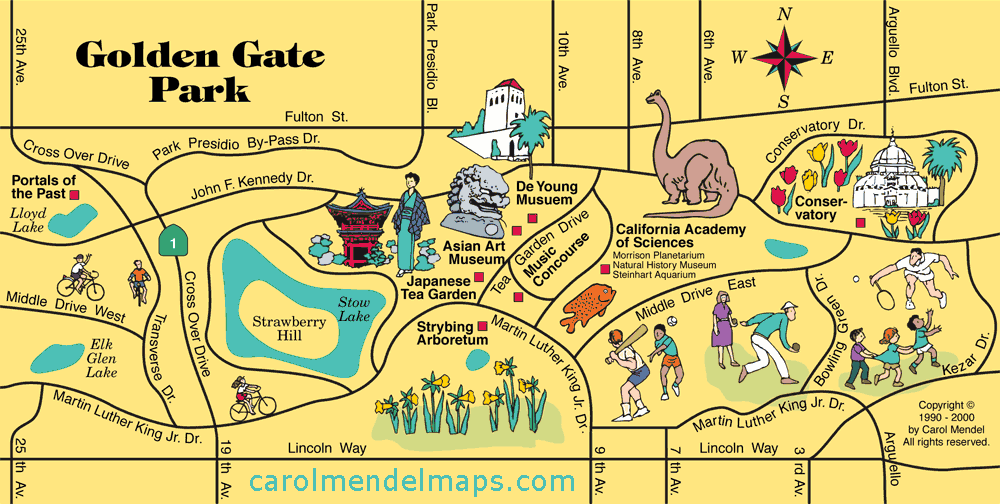 Covering over 1000 acres, Golden Gate Park offers museums, sports facilities, foot trails, bridle paths, lakes, gardens, and an outdoor music concourse. This map shows the eastern half of the park, the area most popular with visitors.

Here's a list of the attractions shown on this map:

* Asian Art Museum
California Academy of Sciences
Conservatory of Flowers
deYoung Museum
Japanese Tea Garden
Music Concourse

Natural History Museum
Portals of the Past
Steinhart Aquarium
Stow Lake
Strawberry Hill
Strybing Arboretum

* The map shown here is from the San Francisco & the Bay Area Vistior's Map, a printed map. The Asian Art Museum moved to a downtown location after that map was printed.
---
The paper map that included this map:
This map of Golden Gate Park was part of
Carol Mendel's San Francisco Bay Area Visitor's Map
, a printed map 24" wide by 18" high.
Covering one entire side of the printed map was a pictorial map showing all of the
San Francisco Bay Area
, featuring main roads and visitor attractions.
The Golden Gate Park map measured approximately 8" wide by 4" high, and was one of five smaller maps included on the other side. The other maps focused on
Downtown San Francisco
,
San Jose & Santa Clara
,
Fisherman's Wharf
, and the
Wine Country
. An index covered all the maps.
---








Copyright © by Carol Mendel