Carol Mendel's
San Jose & Santa Clara map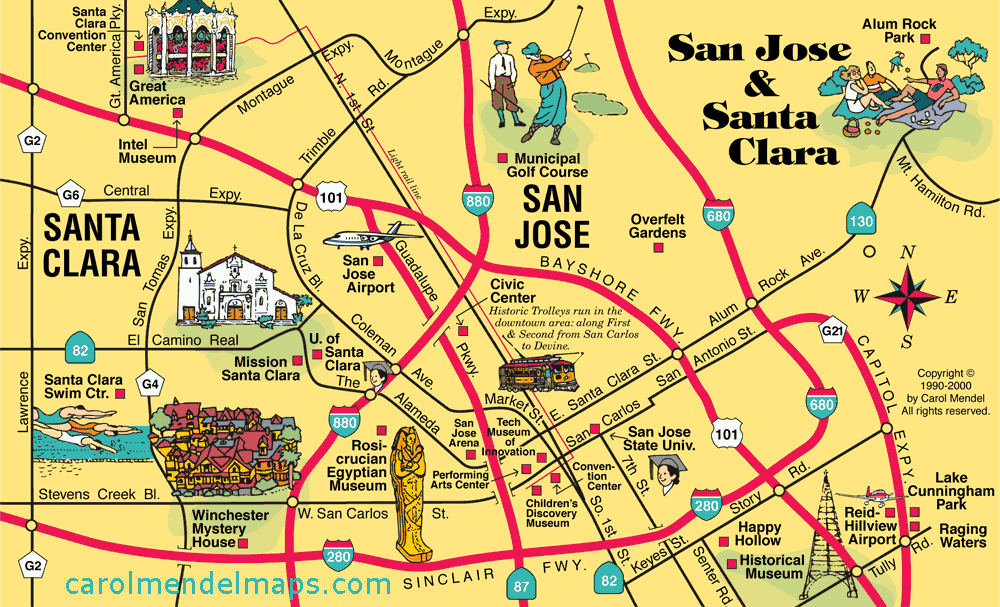 At the south end of San Francisco Bay, San Jose and Santa Clara are in the heart of "Silicon Valley," the high-tech capital of the nation.

Here's a list of the attractions shown on this map:

Alum Rock Park
Children's Discovery Museum of San Jose
Great America
Happy Hollow Park & Zoo
Historical Museum
Intel Museum
Lake Cunningham Park
Mission Santa Clara
Overfelt Gardens
Raging Waters
Reid-Hillview Airport
Rosicrucian Egyptian Museum

San Jose Airport
San Jose Arena
San Jose Civic Center
San Jose Convention Center
San Jose Municipal Golf Course
San Jose Performing Arts Center
San Jose State University
Santa Clara Convention Center
Santa Clara Swim Center
Tech Museum of Innovation
University of Santa Clara
Winchester Mystery House
---
The paper map that included this map:
This map of San Jose & Santa Clara was part of
Carol Mendel's San Francisco Bay Area Visitor's Map
, a printed map 24" wide by 18" high.
Covering one entire side of the printed map was a pictorial map showing all of the
San Francisco Bay Area
, featuring main roads and visitor attractions.
The San Jose & Santa Clara map measured approximately 8" wide by 5" high, and was one of five smaller maps included on the other side. The other maps focused on
Downtown San Francisco
,
Golden Gate Park
,
Fisherman's Wharf
, and the
Wine Country
. An index covered all the maps.