Spreckels Organ
supplementary information for the walking tour of Balboa Park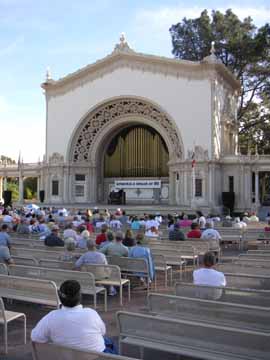 Spreckels Organ

Except during World War II, the Spreckels Organ has hosted a recital here every week since John D. and Adolph Spreckels, of Spreckels Sugar fame, donated it to the City of San Diego on January 1, 1915.

The recitals, free of charge, take place each Sunday afternoon at 2:00. In addition to the Sunday recitals, during the summer months there are concerts on Monday evenings. For details about programs, visit the website of the Spreckels Organ Society.

The largest outdoor organ in the world, the organ contains 4,445 pipes, ranging from an inch and a half to 32 feet long.

The tuning of an organ is highly dependent on temperature, and San Diego, with its very even temperatures, is one of the few cities in the world where an outdoor organ is feasible. When the organ is not in use, it is protected by an enormous metal curtain weighing close to twelve tons. A Corinthian peristyle stretches out from each side of the organ, partially enclosing the 2000-seat theater.